I wish those 10 days never ended, holidays in Bali was like a heaven for me. I am so excited to share my experience but not able to decide from where to start. Each and everything was spectacular whether it was greeting sun from the Mount Batur, surfing at the Kuta Beach, admiring the breathtaking architecture of Goa Gajah, experiencing the Long-tailed macaques at the monkey forest, shopping at the Ubud Art Market, adventure at Waterbom Bali, acquainted with the Balinese culture at the Bali Museum or explore the blessings at the Tanah Lot Temple.
No doubt, Bali is one of the best places to visit in Indonesia, and surely after reading this article, you will also want to explore Bali at least once in this lifetime.
Mount Batur- Must Place to Visit in Bali for Mountain lovers!
Well, I am not a morning person, use to wake up generally up to 9 AM but I could not miss sunrise from the Mount Batur at any cost. You won't believe it but I actually woke up at 2.00 AM, thereafter our driver picked up and drove for an hour to the foot of Mount Batur and from there we trek up 1700 meter to watch the Sunrise over the Mountain. Even after being so excited, I was trekking a bit slowly as there were hundreds of visitors climbing over it.  The view after reaching there was worth visiting, it actually took me all fatigue and revitalized me.
It was like, we are greeting sun face to face. The sky was covered with thick clouds, we can't even see the ground, making us feel like we are floating on the boat of thick and heavenly clouds. Thereafter a light started coming behind them and quickly, clouds shed away and soon sun smiled towards us. Everything was so beautiful that I can't explain it in just a few words. Well, I am personally obsessed with the mountains, so This is going to the 1st in my list of 10 Best places to visit in Bali, Indonesia!!
After seeing the pictures of Mount Batur, my sister actually regret why she was not with me? After climbing for such a long time, I was quite hungry and therefore my guide took me to one of the nearby floating restaurants.
If you are planning your next holidays in Bali, please do not even think to miss Sunrise from Mount Batur and if really want to experience early morning sunrise, then you have to wake up early.
Address – Mount Batur, South Batur, Kintamani, Bangli Regency, Bali, Indonesia.
The best time to trek Mount Batur is between 2.00 AM to 9.00 AM. The trekking would take around 2 to 3 hours. To experience the sunrise you have to reach the top by 5.30 to 6.00 AM.
Pura Tanah Lot Temple- Must place to visit in Bali for Hindus
This "Hindu temple" in Bali will be at no 2. Of my list of 10 best places to visit in Bali. Nowhere in the world can beat the natural beauty of Tanah Lot Temple, the iconic and most visited place in Bali. Our guide told us its full name "Pura Tanah Lot Temple", where Pura refers to the temple in Bali. This temple was built in the 16th century inspired by the priest Nirartha. Actually, it should be named as a Magical temple because there is some magic in the air of this temple. It is nestled on the rocky islet surrounded in between the crashing waves. We visited here in the evening when it was little overcrowded but still worthful. We took endless pictures here as this is a paradise for the photographers. But I would suggest you visit in the afternoon or morning so that you can explore it completely without any hurdle.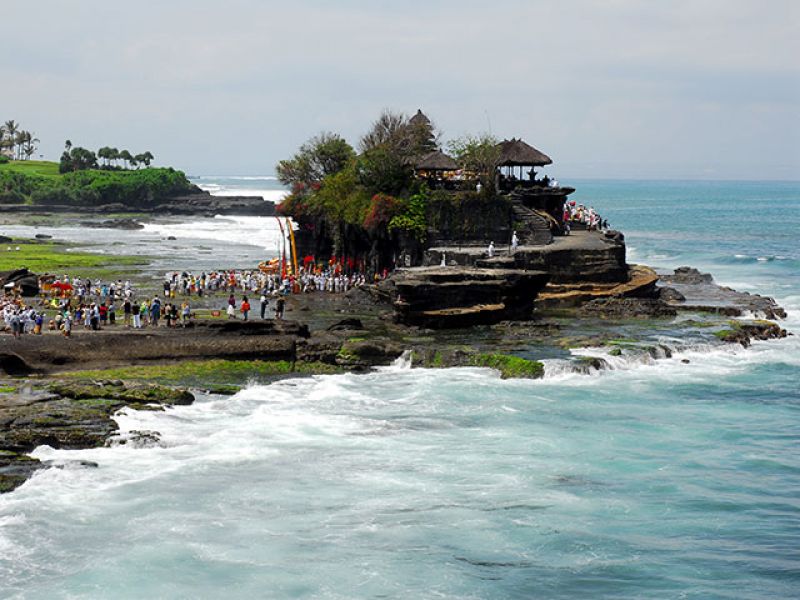 We were actually surprised knowing it was a Hindu Temple and dedicated to God of Wind – Varun. We enjoyed a cup of coffee in one of the cafe overlooking the temple but not Luwak Coffee, which is very popular here also known as "cat poop coffee" considered as one of the expensive coffee throughout the world but I did not taste it because the coffee beans used in it have already been eaten and digested by an animal (Luwak) Yuk… So, think before you order it.
We tasted yummy coconut ice cream in a coconut shell and thereafter go for a small stroll.
I can spend a whole day at this temple, it is perfectly delineating the rich culture and fascinating religion of Bali. Surely an amazingly must place to visit in Bali, Indonesia
Address – Beraban, Kediri, Tabanan Regency, Bali 8217, Indonesia.
Timings – 7AM to 7PM
Entrance Fee – IDR 60.000 / adult and IDR 30.000/ Children
Waterbom Bali- A must place to Visit in Bali for Adventure lovers.
I love surprises, we knew that Bali is a natural wonder but we never expected that Bali is also a Paradise for the adrenaline junkies. We visited the Waterbom Bali referred by locals, an action water park located in the heart of Kuta. Truly said!
This extreme place to visit in Bali is for the fun seekers and thrill lovers, Waterbom Bali, is featured with giant, incredible and twisted water slides You must try "Python, Green Viper, and Super Bowl" at this extreme place of Bali Waterbom! My favorite ride there was "The Lazy River". I have to admire, this place is so well managed known for its safety and cleanliness.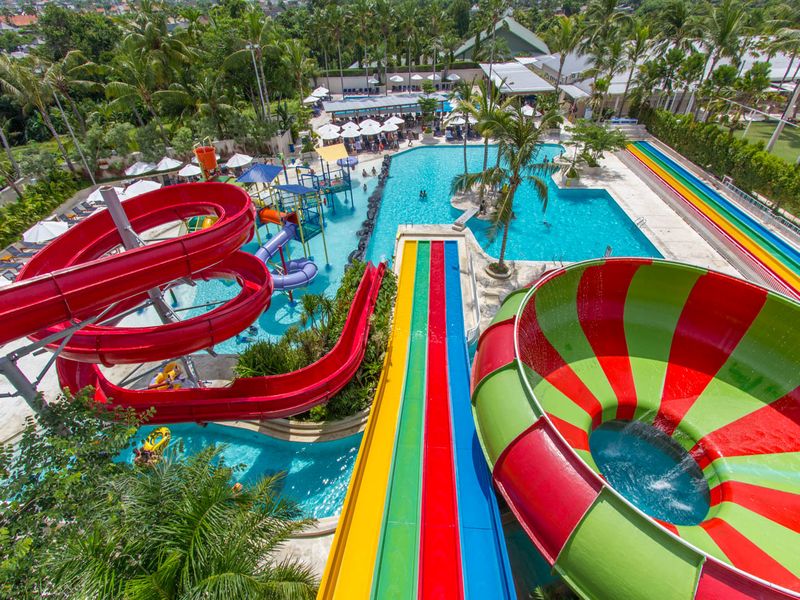 We were thoroughly enjoying the slides without getting worried about the safety as it is clearly the responsibility of staff. We can see how much kids are enjoying this place, there is everything which can lure them as possible.
The food in the park was a little bit expensive but we booked online on their website which results into cheaper and also chose a packaged with meal bundled. However, if you want to go outside for having a meal then you are allowed to exit the park and return the same day.
In the extreme hot weather of Bali, the day at Waterbom Bali was a miracle for me. You should bring your waterproof camera or cover your phone with the waterproof cover.
Address – Jl. Kartika, Tuban, Kuta, Kabupaten Badung, Bali 80361, Indonesia.
Timings – 9 AM to 6 PM
Entrance Fee – IDR 315,000
Ubud Monkey Forest- A must place to visit in Bali to feel Awesome!
You can experience Mountains, sunrise or water slides anywhere in this world, but not a Forest with thousands of Monkeys, a whole forest of monkeys!! Yes, this is a must visit place in Bali! I had a lot of fun in the Ubud Monkey Forest which is also referred as a Sacred Monkey Forest Sanctuary. For the animal and photography lovers like me, this is one of the top attractions in Bali. We explore the entire Jungle where the grey long-tailed macaques were roaming freely. But beware, the monkeys love food and actually, they are very smart. In spite of being a continuous supply of food, they opened my bag and found the bananas and ate the whole bunch. Not only bananas, they actually snatch water bottle from my hands and drink it. But they played with me a lot.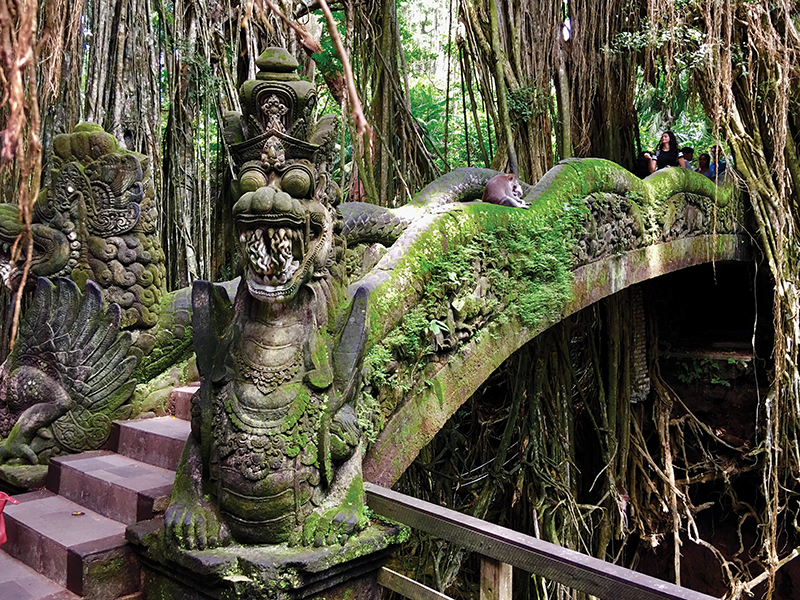 Well, I suggest you not to feed them because they will try to grab on you so be careful.
But still if you to play with them or feed them, then there are some women who use to sell the bunch of bananas inside the forest, you can purchase from them. This can also give you a chance to click pictures with them.
This is a wonderful sanctuary equipped with glorious scenery, mesmerizing temples, and walking paths. We cooled ourselves in the ancient bathing temple Pura Beji and explore wonderful monkey's antics in the northwest of the forest.
I will advise you not to disturb, direct contact and smile to the animals, it can lead you into trouble as it is considered as a sign of aggression.
Address – Jl Monkey Forest, Ubud, Kabupaten Gianyar, Bali 80571, Indonesia.
Timings – 8.30 AM to 6 PM
Entrance Fee – IDR 50,000/ adult and IDR 40,000 / children (3-12 years old) 'yes, it is costly"!
Uluwatu Temple- A Temple not be Missed!
This is far more beautiful than my expectations. For a moment I could not believe that I am in Bali. Uluwatu Temple is dedicated to Widhi Wasa and situated at the steep cliff over the roaring sea. Besides this, only Hindus are permitted to enter the temple. However, Kecak Dance and the astounding setting is viewable to all this is a place to be visited on Bali holidays.
After entering there, our guide told us the meaning of "Uluwatu Temple" where "Ulu" stands for tip or "lands end" while the "Watu" means "rock". The locals also have a belief that this temple protects the Balinese from the evil spirits and the monkeys who reside in the forest at the entrance gate are considered as a guard of the temple. Uluwatu temple is definitely a not to be missed place to visit in Bali!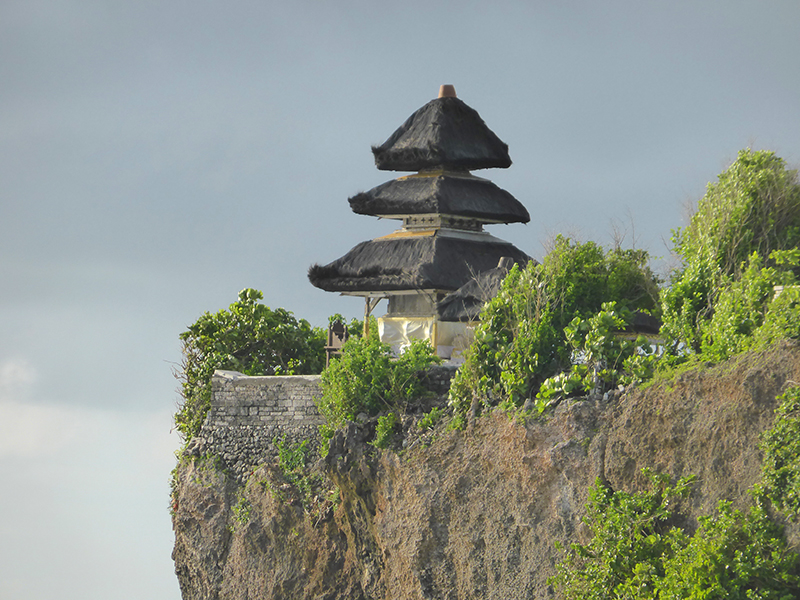 We explore the most breathtaking sunset view here as the place is directly headed to the west and in my opinion sunset is the best time to visit this temple. After that, we explore inside the temple and trust me that was truly a different and wonderful feeling. Thereafter we enjoyed the Kecak Dance performance which takes place here daily. After the show,  be careful from the monkeys. They are very naughty and will try to steal your stuff. They stole my friend's sunglasses which was quite expensive. So, be careful. But you must Visit this place in Bali.
Address – Pecatu, South Kuta, Badung Regency, Bali, Indonesia.
Timings – 7 AM to 7 PM
Entrance Fee – IDR 30.000/ adult and IDR 20.000/children
Kuta Beach- The best beach and the Best place to visit in Bali for couples.
Kuta Beach is one of the top listed beaches in Bali and also a modern era of tourism.It is surely a must visit place in Bali. A little bit overcrowded but still very neat and clean and has a great fame for its turquoise water and soft sand. Trust me, Kuta is a paradise for surfers both beginners and intermediate, and we enjoyed surfing there a lot. Beside this, chilled waves of the sea, fascinating nightclubs, bars and wild nightlife trapped us.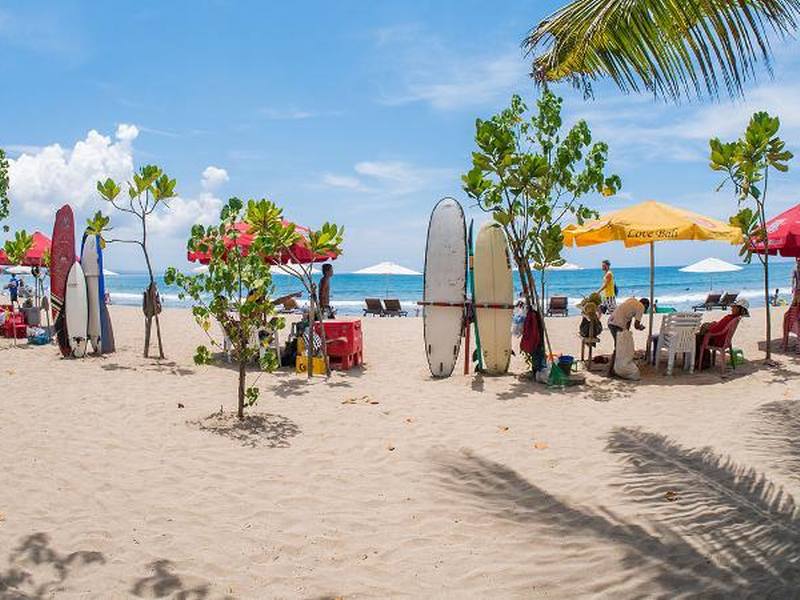 We delight us through icy cold coconut sloshing with juice while taking the sunbath on our sun lounger which was truly an amazing experience. Although, the beach is full of sellers who were bothering us so better to stay away from them.
we could see so many Indians there as Bali is already famous among the Indian couples as an outstanding honeymoon destination. I loved it, for me, it was like a dream place and never ever want to miss an opportunity to play on the soft sandy beaches of Kuta.
Address – Kuta beach, Kuta, Badung Regency, Bali, Indonesia.
Tirta Empul Temple- Another Hindu temple you must visit at Bali
Tirta Empul Temple is a Hindu Balinese Temple, a phenomenal place where the locals have a belief that bathing in the holy water of the temple will clean your sculpted spouts. This temple is dating from around 960 AD which referred to a national cultural heritage site.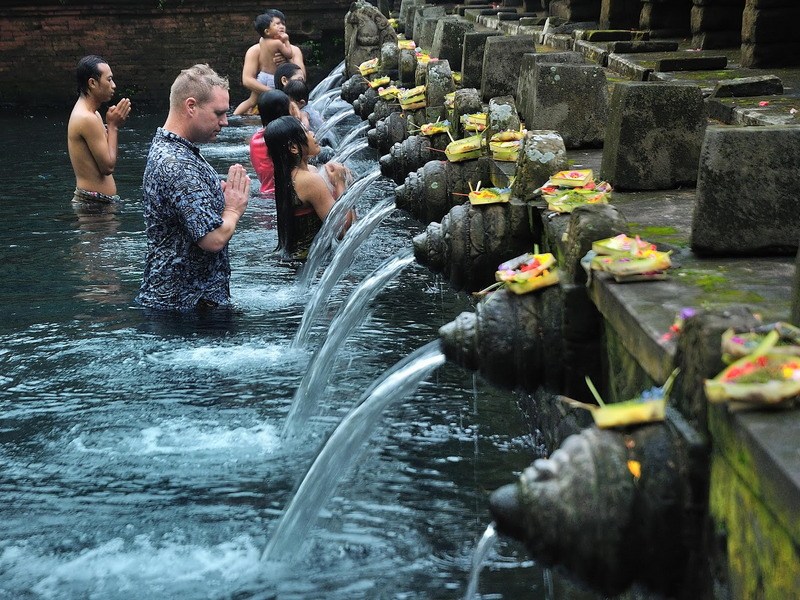 First, we explore the temple completely, the structure was breathtaking and thereafter took a dip in its clear holy water. Changing rooms were available there. The water was chilled and there are some fishes also in the water which made this experience more fascinating. This place has endless reasons to visit even if you want to skip the bath.It is one of the fascinating places to visit in Bali, Indonesia.
In my opinion, the best time to visit this temple is either early morning or late afternoon.
Address – Jalan Tirta, Manukaya, Tampaksiring, Manukaya, Tampaksiring, Kabupaten Gianyar, Bali – 80552, Indonesia.
Timings – 9.00 AM to 5.00 PM
Entrance Fee – Rp 15,000 / adult and Rp 7,500/ child.
Ubud Art Market- Place to visit in Bali for family shopping!
Ubud Art Market is the epicenter of Balinese Art and Culture and we had a brilliant shopping experience in the Ubud Art Market. This market lures the art lovers like a magnet.It's a must visit place in Bali for Shoppers.
I often don't use to bargain but in order to get the right price at Ubud Art Market, I bargained a lot. If you really want to find the best price start negotiating at just 20% of the price they quote you, which will land you at about 30 – 40% of the quoting price.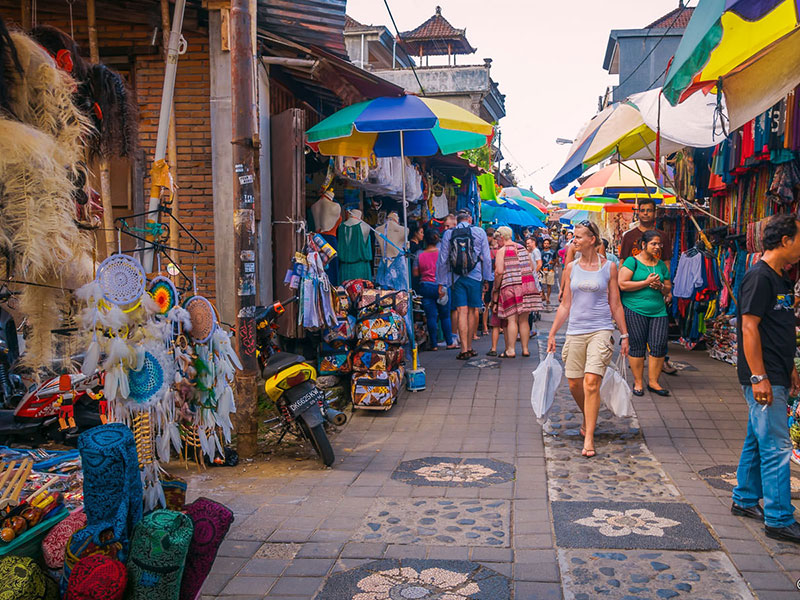 Don't care if some vendor is not ready to sell the good at your price, mostly all the vendors have same goods so you can go down the market and try to different stall for the same good.
I experience the vendor or stalls which are hard to see like in some corner or upstairs sells the goods at best prices. My friend bought a handbag and some jewelry for which we thought it wasn't of a good quality as they were very cheap. But no, we were wrong, both the items were of good quality. Even we bought endless souvenirs such as paintings, jewelry, sarongs, sculptures etc at really cheap prices. Some of the famous shops in Ubud at market are Agung Rai Museum Art and  Neka Art Museum.
Address – Jalan Raya Ubud No. 35, Ubud, Kabupaten Gianyar, Bali 80571, Indonesia.
Time to visit – 6AM to 6PM.
Goa Gajah- Most famous place to visit in Bali!
I haven't seen such an architecture ever before in my life, this elephant shaped temple is embellished with Shiv Lingam and Idol Ganesh at the end of the tunnel. This mythological temple was delineating the interesting ancient stories through the stone carvings of various demons and characters. This might be the most famous temple of Bali, an amazingly spiritual place.
We returned back to the stairs where we got a chance to see a small waterfall and few huge carved stones. Also, spend a wonderful time at the nearby coffee shop.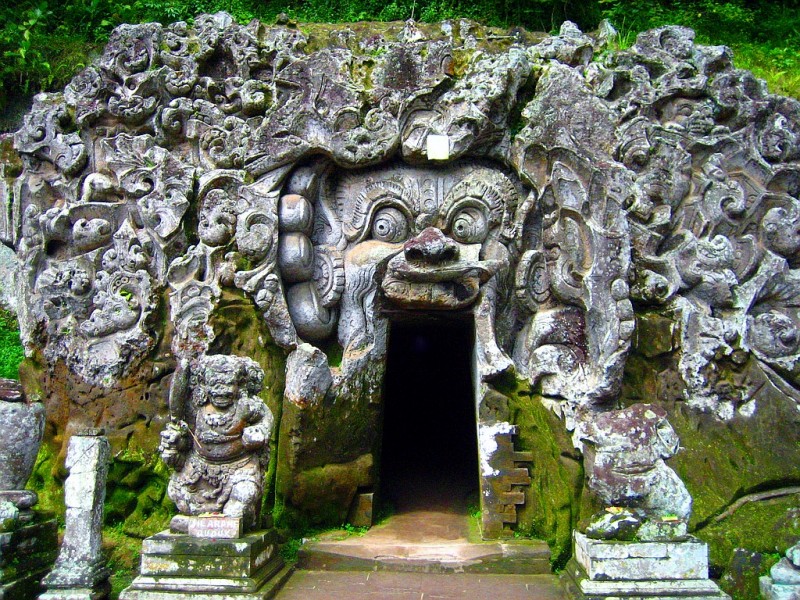 But beware of the guides, as one of the couples latched by a guide who talked to them for 15 minutes which they thought included in the entry fee. Later at the time of existence, he asked for Rp 150000 from them but they refused to pay, the result he blocked theirs exist till they paid them. So, be careful from such misleading guides.
Overall, it was an amazing experience. I really feel your Kintamani tour would be incomplete if you miss Goa Gajah, It is must place to in Bali for history buffs.
Address – Located on the island of Bali near Ubud.
Timings – 8 AM to 4.30 PM.
Entrance Fee – 15000 Rupiah or $1.15
Bali Museum
The outskirts of Denpasar are dotted with Bali Museum, a splendid place to visit in Bali to get familiar with Bali's cultural heritage. The place is wonderfully adorned with manicured gardens making it iconic for strolls. I personally suggest you hire a guide if you really want to know in depth about this place and the Balinese history as they seem to be very knowledgeable. But be careful from the locals who selling hand printed calendars or flutes at the entrance gate as you can easily find all such things at a very cheap price in the art market of Sukawati. We purchased some and now it feels like we got robbed.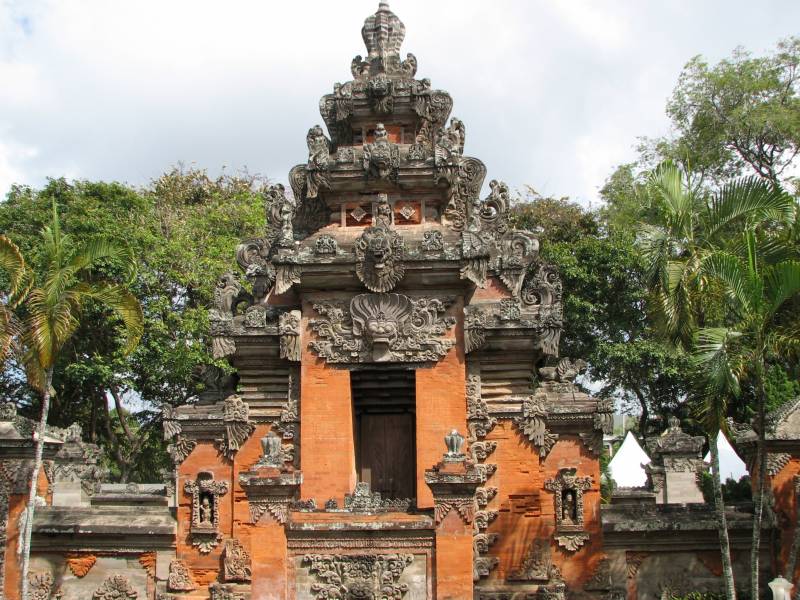 Address – Jl. Mayor Wishnu No. 1 Dangin Puri, Denpasar Tim, Kota Denpasar, Bali 80232, Indonesia.
Timings  – 7.30 AM to 3.30 PM (All day except Friday)
                7.30 AM to 1 PM (Friday)
Entrance Fee – IDR 50.000 / person.
So these were some of the best places to visit in Bali, Indonesia. But according to me if you are planning to visit Bali you must also travel Singapore and Malaysia. For Singapore with Bali package, you can call Roaming Routes on 9549443274