Curtains are not just a necessity but they are important for your privacy and security too. While readymade curtains are available in markets, custom made curtains allow you to have things done your way when it comes to home décor. You can choose some custom made curtains according to your preferences and wall colors. Apart from that, different rooms are designed with different types of windows and you can choose some custom made curtains which will fit on your windows perfectly.
Why Go For Custom Made Curtains?
Readymade curtains come with a limited range of combinations. However, with a little time and patience at your disposal, custom made curtains could become the best fit for you.  Here you can find some reasons to choose the custom-made curtains:
The material can be picked depending on the functionality of the curtain. You can choose some lightweight materials for your drawing rooms, and you can choose some heavyweight linens for your bedrooms and bathrooms.
For bedrooms and offices, it is advisable to go for medium to thick quality cotton blinds as they effectively block out sunlight and keep the room cooler during the summer.  Apart from that, these curtains can provide you 100% privacy level and you can also reduce your power consumption bill by installing such curtains.
For living rooms, lightweight, pure or mixed polyester may be used if interiors with natural lighting are preferred.
Foil curtains are often used to glam up an otherwise dull living room. They are generally installed on a temporary basis for party purposes.
Sheer drapes are flimsy, minimalistic yet pretty, and are generally used in personal spaces.
Color coordination is that little trick to balance out the aesthetics in the room. Business environments always use pastel shades in both walls and curtains, while at home, pastels are often contrasted with bright shades. Grab a color palette for this step, keeping in mind the color(s) of the wall(s) in the house/office.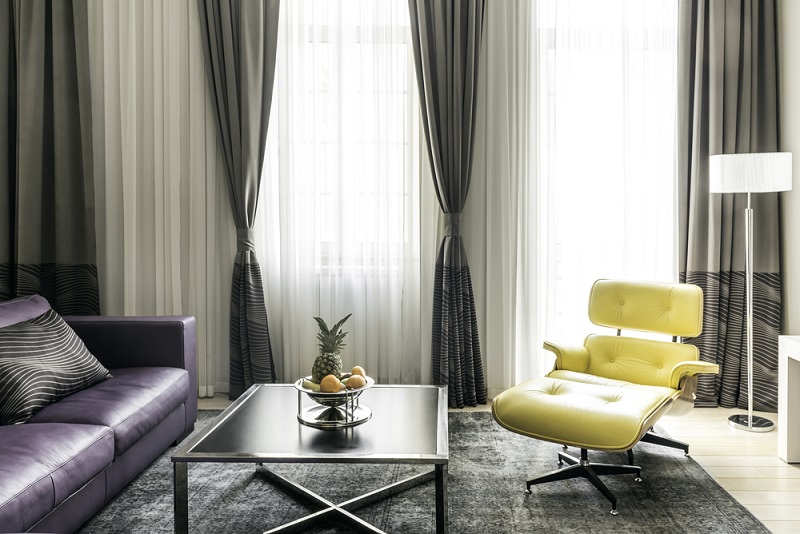 Different Type of Designs of Custom Made Curtains:
There are different types of curtains available in the market and you can choose them according to their design, color, and pattern. But before you choose the curtains, you must check their quality and fabric.
Apart from that, maintenance of such curtains is really a hectic job and you need to ask the retailers for maintenance tips.
Rod pocket curtain – This has a cased heading that has openings for the horizontal insertion of a (preferably slim) rod or a sturdy string. Get the stitching done so that moving the curtain head along the rod/string is effortless.
Tab top curtain – This has fabric loops to hang the drape from the rod. Tab tops allow easy movement and give casual folds. You may increase or decrease the number of loops depending on how many folds are needed.
Pinch pleated curtain – This has many variants, the number of pleats in each group ranging from two to five. You can have your desired number of pleats and choose several pleats to make your window more beautiful.
Eyelet curtain – The eyelet curtain has rings (usually made out of metal; rarely plastic) embedded into the curtain head through which the rod is supposed to pass. The rings protect the fabric near the top from getting worn out due to continual use and give semi-formal pleats.
Goblet pleated curtain – A curtain with goblet pleats, when being personalized, can be made to have either fewer or more goblets according to individual preferences. This is an intricate look with well-defined folds.
So now you can search such curtains online and choose the best linen, fabric and materials for your custom made curtains.